Biography of Honorata Nurkowicz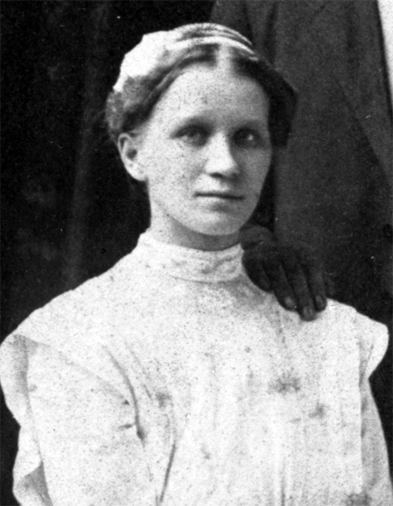 Birth: Honorata Nurkowicz was born on January 5th, 1886 in the small village of Strażów in the Parish of Krasne about 5 kilometers west of Rzeszów, Poland. She was born out of wedlock to Antonina Nurkowicz, who was the daughter of Wojciech Nurkowicz, a laborer, and Katherine Dziedzic living in house number 106. Wojciech Nurkowicz was the son of Antoni Nurkowicz, and Marianna Misiewicz, who lived in house number 64. Katherine Dziedzic was the daughter of Wojciech Dziedzic and Anna Tybura. Honorata Nurkowicz's godparents were Andreas Pietraszek and Niemcowa.
Immigration: Honorata emigrated to the U. S. aboard the S.S Chemnitz sailing from Bremen Germany on June 23 1904 and arriving in Baltimore Maryland on July 7th 1904. This record stated that she was 18 years old, was a maid/servant, unable to read and write, was from Strazow in Galicia, she had 10 dollars on her and that she was going to stay with her brother Jan Nurkowicz, who was living at 1234 west 47th in Chicago, IL.
Marriage: Honorata Nurkowicz married Franciszek Rzasa on 13 November 1904 in Saint Joseph's Church in the area on the near south side called the "Back of the Yards". People living in this neighborhood worked primarily in the meatpacking plants that were sharply criticized by the author Upton Sinclare in his book "The Jungle". On her wedding record in the City of Chicago, Honorata's name was spelled Nora Norkowic. She was listed on the 1910 U.S. census as Nora as well. On the wedding record in St. Joseph's church her name was spelled Honorata Norenkiewicz. On that church record, she listed her parents as Adalbert (Wojciech) and Catherine. These were actually her grandparents Wojciech Nurkowicz and Katherine Dziedzic. She either did not know the truth about her actual parents, or was embarrassed by her out of wedlock birth. The witnesses to the wedding included Jan Norkiewicz and Antoni Wisz. The Wisz family also came from Strażów. I believe Jan Nurkowicz may have actually been her uncle or cousin, not her brother because on his wedding record, he lists his parents as Adalbert (Wojciech) and Catherine Wysz.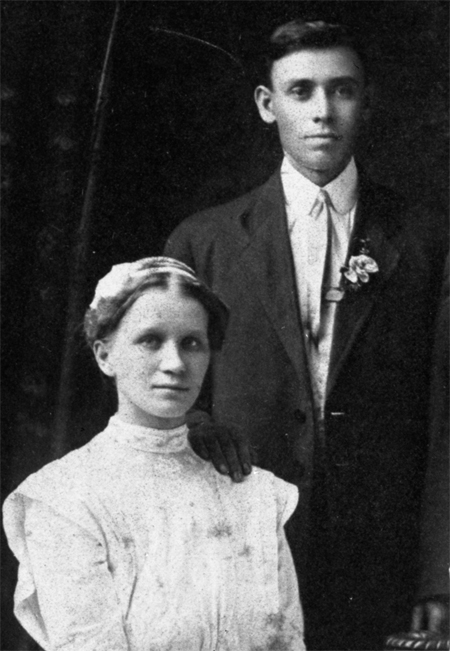 Residence: The 1910 census listed the Rzasa family address as 8361Ontario Avenue. In the same building lived Jan Nurkowicz his wife Catherine and their two daughters Stella and Millie. On 27 march 1907 Jan Nurkiewicz, son of Adalbert Nurkiewicz and Catherine Wysz, married Catherine Gunia, daughter of Sebastian Gunia and Marianna Gaweł. All of these family names come from the Krasne parish as well. Both Jan and Catherine filed naturalization records. He was listed as John Norkewicz and she was listed as Catherine Nurkewicz.
Children: Frank Rzasa and Antonina Nurkowicz had one child, named Joseph. He was born on March 1, 1906 and christened on March 4, in the parish of the Immaculate Conception of the Blessed Virgin Mary in South Chicago.
Death: Honorata died on December 30, 1912. One the Cook County death certificate, her name was spelled Onerita Ząsa and her parents were listed as Michael Buk and Antionina Norkiewcz. Her cause of death was listed as "Mitral Stenosis" (heart attack) "probably congenital with a secondary cause of "broken compensation". She had been under the doctor's care since December 18th. At the time of her death, the family was living at 8347 Bond Avenue. There is a story related to her death that was told by descendants in both Poland and America. The story goes that there was a fire in the Rząsa apartment and that Honorata had died of fright, trying to rescue Joseph. She was buried on January 1, 1913 at Holy Cross cemetery in Calumet City Illinois. Her husband Frank could only afford a "term" grave so the location no longer exists today. This was later a major point of contention between Frank and his son Joseph. Frank Rzasa later remarried another woman from the parish of Krasne and had several children with her.
Other Family Information: Honorata Nurkowicz's mother, Antonina Nurkowicz, later married Michał Buk and they had several children: Regina b. 13 November 1894, Wojciech b. 13 April, 1901, and Antoni b. 11 May 1903. Regina was born out of wedlock as well but a later entry onto the birth register dated 4 February 1897 stated that Michal Buk identified himself as the natural father of Regina. No such addition was made to Honorata's birth record of 1886. It is unclear whether Michal Buk was the actual father of Honorata but he was listed as the father on Honorata's death certificate in Chicago from 1912. The fact that she kept the name Nurkowicz and not Buk and the fact that her mother did not marry until at least 8 years after her birth suggests that Michał Buk was not her biological father. Honorata Nurkowicz's mother, Antonina Nurkowicz had a sister named Marianna who was born in Strazow on February 11 1871 and another sister named Anna. Ann also had a daughter, named Barbara, born out of wedlock in 1899. Anna does not show up on a birth register so perhaps this Nurkowicz family also lived in another nearby village as well.
Jan Nurkowicz entered the country aboard the S.S. Patricia sailing from Hamburg to New York on Jan 23 1903. He entered the country as Jan Norkowicz. He listed his birthplace as Strazow and his birth date as June 12 1882. His wife Catherin Gunia enterd the US aboard the S.S. Noordland sailing from Antwerp to NY on April 10 1906. She entered under the name Katarzyna Gunia. She listed her birthplace as Palikowka and her birth date as June 12 1882.
Jan and Catherine Nurkowicz had eight children: Angeline b. March 13, 1908, Walter b. Jan 17 1911, Stella b. April 25 1913, Lottie b. march 7 1917, Edna b. April 16, 1919, Edward b. Nov 8 1921, Eleonore b. Feb 22 1926, and Alfreda b. Dec 18 1929.
On the 1930 U.S. Census, this family was living at 8223 Brandon Avenue.