Michael Orbik
(1887-1937)
Biography
Michael Orbik was born in Tajno in 1887, the son of Jozef Orbik and Anna Szczesny.
Michael Immigrated to the US on 23 March, 1912 on the SS Prinz Oscar sailing from Hamburg on 8 Oct 1912 to Philadelphia. He listed his village as Tajno, his father as Jozef Orbik and his destination as Hurley, WI. He was listed as a 25 year old farm hand. His destination was his cousin Frank Organista, box 218 Hurley, Wis. He was lsited as 5' 8", blond with brown eyes. He was travelling with 23 year old Peter Romanowski from Tajno.
In 1912, Michael Orbick was living nearby on 6 Germania location in Hurley. The "locations" mentioned in the Ironwood-Hurley area were small communities built around the mines of that same name.
On 3 Feb 1919 Michael Orbik declared his intent to become a US citizen and applied for citizenship on the same day. He was initially denied in September 1922 beacause he had applied for an exemption to the WWI draft claiming he was a foreigner. On 25 May 1926 he was finally awarded citizenship. He was still a miner resinding in Hurley in 1925. Witnesses to Michael's citizenship requests were Frank Organista and Joseph Pietrowski.
In the September 26, 1922 issue of the Ironwood Globe, under the headline 3 DENIED CITIZENSHIP FOR ASKING EXEMPTION, Jacob Orbick and Mike Orbik were two of nine petitioners for citizenship whose cases were continued. The reason given was that they had claimed exemption to the WWI draft because the were foreigners. See this article. Mike Orbik was was finally granted citizenship on 25 may 1926 and Jakub Orbik on 22 Oct,1923.
Sometime between 1926 and 1930, Michael moved to Kenosha to work. There were also Organista families from Tajno there as well.
Michael appeared in the 1930 US Census as Michael Orbic [sic], a 40 year old single laborer working at a brass factory and rooming at 6204 Twenty Fourth Avenue in Kenosh, WI.
The Ironwood Daily Globe newspaper of Wed Dec 31, 1930, mentioned that Mike Orbik of Kenosha and Frank Organist of Hurley visited the John Organist home on Sunday.
In the 1927 Kenosha City Directory, Michael Orbik appears for the first time as Michael Orbick, a renter living at 6204 24th Ave.
In the 1929 Kenosha City Directory, he appears as Michael Orbick, a renter living at 6204 24th Ave.
In the 1931 Kenosha City Directory, he appears as Michael Orbic, a renter living at 6204 24th Ave.
In the 1933 Kenosha City Directory, he appears as Michael Orbkc, a renter living at 6033 23th Ave.
In the 1937 Kenosha City Directory, he appeared fro the last time as Michael Orbik, a renter at 2111 64th.
American Brass Company, Kenosha, Wisconsin.
As published in "The City of Kenosha and Kenosha County Wisconsin: A Record of Settlement, Organization, Progress and Achievement" by Frank H. Lyman Vol. 1, The S. J. Clarke Publishing Co., Chicago, 1916. p. 296
The American Brass Company has one of its leading branches in Kenosha and the business conducted here constitutes one of the important industries of the city. Its plant covers an entire block the buildhing is largely a one-story structure of steel, supplied with a sprinkler system and other equipment which safeguards the interests of the employees as well as of their concern. For a number of the business was conducted under the name of the Chicago Brass Company, which in 1912 sold out to the American Brass Comapny, since which time the Kenosha enterprise has been known as the Kenosha Branch of the American Brass Company. Under the corporation organization it is affiliated with the Ansonia Brass & Copper Works of Ansonia, Connecticut, the Benedict & Burnham branch at Waterbury, Connecticut, the Coe Brass Works at Torrington, Connecticut, the Coe Brass branch at Ansonia, Connecticut, and the Waterbury Brass branch at Waterbury. The Kenosha branch manufactures brass sheets, rods, tubes and bars. They sell to manufacturers and the output is sent all over the United States. They use all raw material, converting it into the finished product according to the most modern methods and processes. They employ 1,800 people, 20 percent being skilled labor. A night school is maintained for the employees. The officers of the Kenosha branch of the American Brass Company are:, George H. Allen, vice president; C. J. Hackett, manager; A. H. Quigley and J. R. Anderson, assistant managers; W. D. Martin, purchasing agent and traffic manager; and C. S. Judd, superintendent.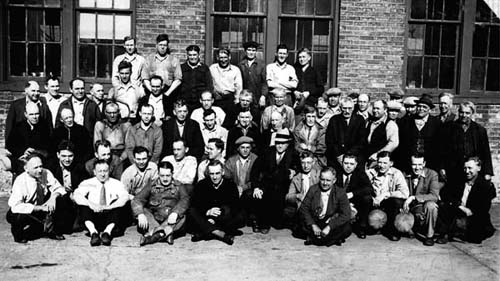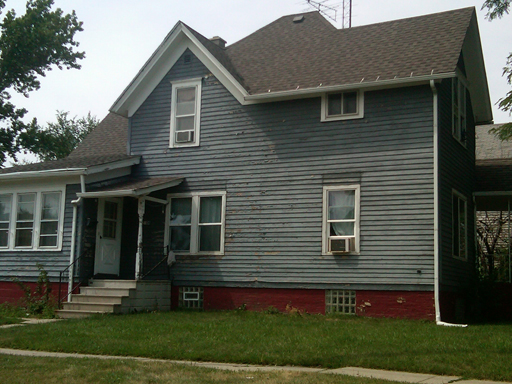 Employees of American Brass
Machine Shop Crew, 1935

Source: http://www.rootsweb.ancestry.com/~wikenosh/business.htm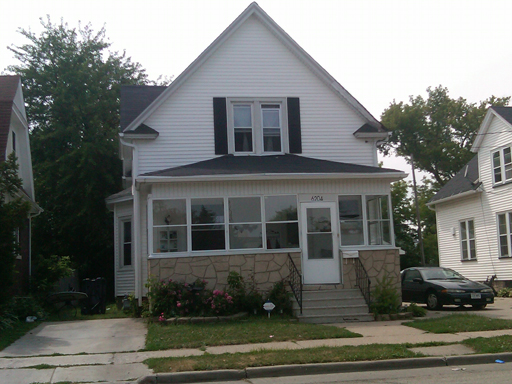 Mike Orbik lived here at 6033 23th Ave in 1933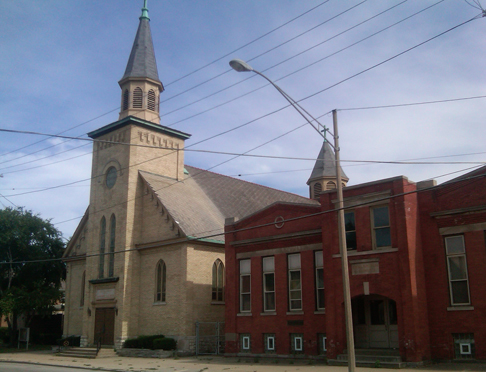 Mike Orbik lived here at 6204 24th Ave from 1927-1931
St. Casimir Polish Church and School on Washington Street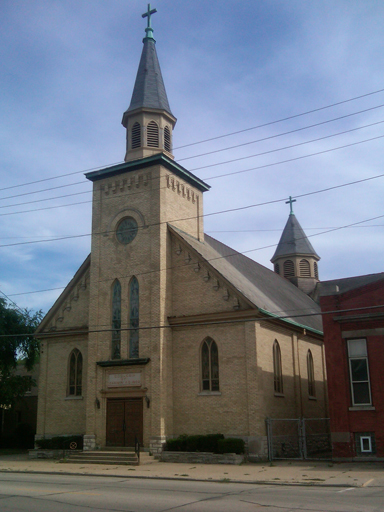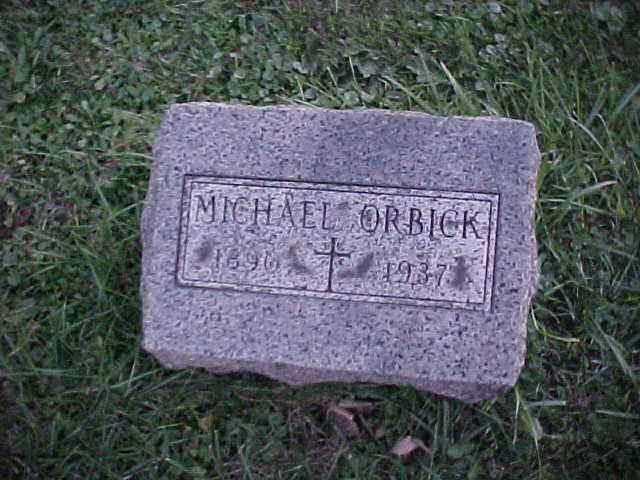 Michael Orbik died in 1937 and is burried in St. Casimir Cemetery in Kenosha Wisconsin.