Biography of Jozef Szocinski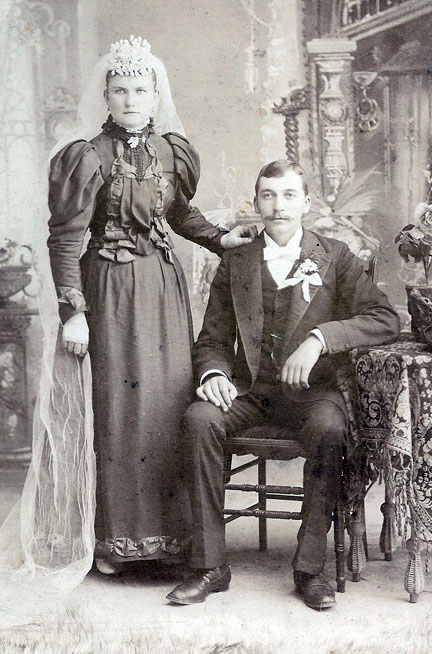 Birth: Jozef Szocinski was born in St. Michał's parish in Gniezno on 22 Feb 1875. He was the only child of Kaspar Szociński and Antonina Słomka. This was Kaspar's second marriage. His first marriage was on 19 Nov 1864 to Marianna Jakowska. She was from Saint Michal's parish in Gniezno and was the daughter of a magister schola or school master. At the time of their marriage, Kaspar was 25 years old and was listed as living in Swiątniki in the parish of Modliszewko, about 10 kilometers north of Gniezno. Kaspar and Marianna had no children and she died on 12 Sep 1873 of typhus. Kaspar married Antonina Słomka on 29 Jan 1874 at St Michal's in Gniezno.
Immigration: According to U.S. Census data, Jozef Szociński immigrated to South Chicago in 1883 from Gniezno Poland. He came over with his parents. So far I have been unable to locate the actual ship data.
Marriage: Joseph Szociński married Stanisława Broniarska on 5 November 1895 in Saint Michael's Church in South Chicago. It was Stanisława's second marriage. She was the widow of Walenty Konieczny.
Occupation: Joseph Szociński was a carpenter.
Residence: The family address according to the 1910 census was 8240 Houston Avenue.
Children: Joseph and Stanisława Szociński had 8 children:
Marianna b. 7 Sep, 1896 (must have died young)

Sylvester b. 12 Dec 1897 d. 1931

Leocadia "Lillian" b. 5 Dec 1899 m. William Raasch d.

Stanisława "Stella" b. 1902 m Podolski d.

Valeria "Laura" b. 14 Dec 1905 m. Joseph Rzasa 27 May 1927 d. 1984

Gertrude b. 1907 m. Baron d.

Ignatius b. 18 Jul 1910

John b. 1913
Death: Joseph Szociński died on 11 Dec 1916 of pneumonia. He was 41 years old and was living at 8317 Commercial Avenue at the time of his death. He was buried at Holy Cross cemetery in Calumet City Illinois.
Other Family Information: Jozef Szocinski's mother, Antonina Slomka was born on 12 May 1856 in Dziekanowice, a small village about 10 kilometers west of Gniezno. She was the daughter of Jan Słomka a tabornator or innkeeper and Marianna Nowak. Jozef Szocinski's father, Kaspar Szociński was born on 5 Jan 1839 in Rogowo, a village about 15 kilometers north of Modliszewko. He was the son of Stanislaw Szociński, an innkeeper, and Dorothy Ostroski. Kaspar Szocinski became a U.S. citizen in 1891 and was living between 83rd and 84th on Commercial Avenue in South Chicago. Kaspar Szociński died in Chicago on August 28th 1907. Antonina (Słomka) Szociński, died on 2 Apr 1921 of cancer. She was living at 8430 Baltimore Avenue. Her arrangements were taken care of by Stanisława Szociński, Jozef's widow.
The witness on Jozef Szocinski's death certificate was his mother Antonina and her address was at 8317 Commercial Avenue as well. It seemed unusual that Jozef was not living in the same place as his family. Family stories relate that Joseph was a boozer and was separated from his wife and lived with his mother. Every so often he would get drunk, go over to his wife's house, throw his kids out, and get his wife pregnant. The 1920 census has Stanisława Szociński and her children living at 8211 Houston Avenue.