Jacob Orbik
(1874-1925)
Biography
Jakob Orbik was born in Barglow Koscielny in 1873. He was the son of Franciszek Orbik and Krystina Kosciuk.
Jakob immigrated to America on 22 Dec, 1899 aboard the SS Switzerland, sailing from Antwerp to Philadelphia. He was 26 years old and stated that his destination was his brother Anton Orbik on 1013 Clair Street in Ashland.
In the 1901-02 Ashland City Directory Jakob appears for the first time as Jacob Orbet [sic] a laborer boarding at 1400 Water St.
In 1903, Jacob appears as Jacob Orbek, a laborer for DW Mowatt Est., boarding at 1400 Water Street.
Jakob Orbik appeared in the 1905 Wisconsin Census living with his brother Antoni Orbik and his family.
Jakob Orbik, a bachelor of 49 years, married Mary Godlowski, 47, on 9 October 1923 in St. Mary's parish in Hurley. She was the daughter of Jan and Anna Romanowski and the divorced wife of Andrew Godlewski. Jacob Orbik was listed as a section hand on his wedding certificate.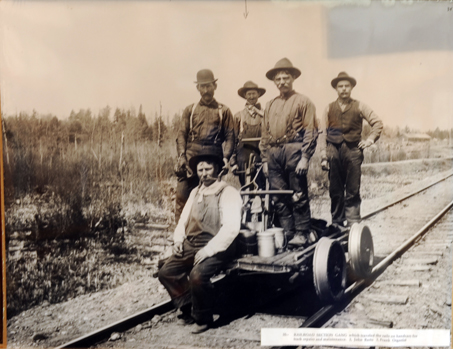 This is a photo of a section gang working in Hurley, Wisconsin. One of the gang men was identified as Frank Organista, a friend of the Orbiks and a native of Tajno. It is possible that Jacob may be in this photos as well.
In 1912, Jacob Orbik's younger cousin Michael was living nearby on 6 Germania location in Hurley. The "locations" mentioned in the Ironwood-Hurley area were small communities built around the mines of that same name. The Ironwood Daily Globe newspaper of Wed Dec 31, 1930, mentioned that Mike Orbik of Kenosha and Frank Organist of Hurley visited the John Organist home on Sunday.
In the September 26, 1922 issue of the Ironwood Globe, under the headline 3 DENIED CITIZENSHIP FOR ASKING EXEMPTION, Jacob Orbick and Mike Orbik were two of nine petitioners for citizenship whose cases were continued. The reason given was that they had claimed exemption to the WWI draft because the were foreigners. See this article. Jakub Orbik was finally granted citizenship on 22 Oct,1923.
Jakob Orbik died two years after his marriage on August 7th, 1925 in Hurley. He was listed as a railroad man and section man. He died of cancer of the liver and arterial sclerosis.
Mary Orbik died on Mar 24, 1948 and is buried in Block 4, lot 47 of St. Mary's Cemetery in Hurley, although there is no headstone for her. Church records indicate that Jakob Orbik is buried there too but there is no record of where.
Mary Orbik was listed as living on Germania Hill in Hurley. In 1947, she was listed as living on 223 Lake Drive, in Hurley.