Biography of Frank Rzasa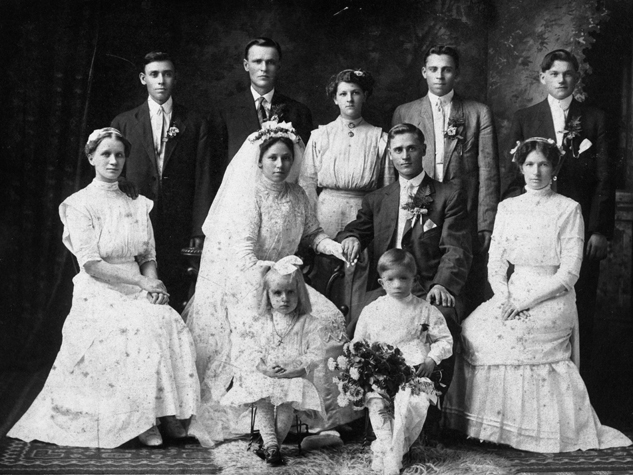 Frank Rzasa (back row left) and his first wife Honorata Nurkowicz (seated left) at the marriage of his sister.
Their only child Joseph Rzasa is the small boy holding the flowers.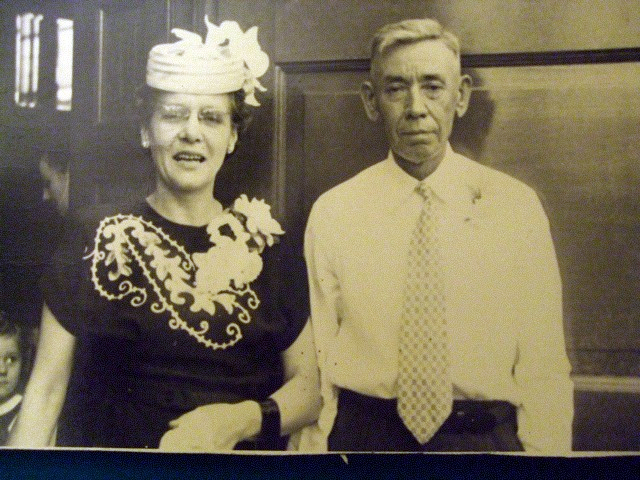 Frank Rzasa and Mary Fugiel Rzasa in the front of Immaculate Conception Church in South Chicago.

Birth: Franciszek "Frank" Rzasa was born on 4 November 1885 in Palikowka, Rzeszow, Poland and was the son of Sebastian Rzasa and Rosalia Halak aka Garncarz.

Immigration: Franciszek "Frank" Rzasa immigrated to South Chicago in March 1902 from Palikowka Poland.

On his declaration of intent to become a U.S. citizen, filed on June 6 1941, Frank Rzasa stated that he arrived from the port of Bremen Germany to New York on the S.S. Bulgaria on March 22, 1902. He said he arrived under the name of Franciszek Zasza. He signed that document with the name Frank Zansa. He said his birthplace was in Rzeszow Poland. Rzeszow was a large city, a county, and a province. On his petition for naturalization filed on Oct 7, 1943, Frank stated that he entered the U.S. under the name of Franciszek Rzasa. A search of the NY ship arrivals shows that the S.S. Bulgaria did not enter the port anytime near this date. Searches from the S.S. Bulgaria ship manifests in 1902 do not produce Franciszek Rzasa's name. Later I found that he came to the US on the ship SS Moltke sailing from Hamburg and arriving in New York on March 20th 1902. On the ship manifest he was listed as Franc Rzasa, an 18 year old farmer, from Palikowka, going to stay with his cousin Jan Gawel at 8337 Bond Avenue in South Chicago.

1st Marriage: Frank Rzasa married Antonina Nurkowicz on 13 November 1904 in Saint Joseph's Church in the area on the near south side called the "Back of the Yards". This was the meat butchering area near the stockyards where many immigrants found work. His wife Honorata died on 30 December 1912.

Child of First Marriage: Joseph, born 1 March 1906 and Christened on 4 March in the parish of Immaculate Conception in South Chicago. He later married Waleria "Laura" Szocinski and had three daughters.

2nd Marriage: Frank Rzasa married Marianna Fugiel in Immaculate Conception Church on 27 May 1913. She was from Strazow Poland and was the daughter of Onufry Fugiel and Catherine Beduarek.

Children of Second Marriage:
Monica born on 20 Oct 1914, married John Podgorny.

Stella born on 29 May 1917, married Leo Kowalke.

Jean b. 25 Aug 1920, married John Pagach,

Steven born Jan 25 1922 and died on June 9, 1944 in Normandy.

Edward born. 5 Mar 1924,married Esther Zatarga.

Teddy born 9 Feb 1940, married Barbara.
Residence: Frank Rzasa was a pipe fitter at the steel mill. The family address according to the 1910 census was 8361Ontario Avenue. In the same building lived Honorta Rzasa's cousin Jan Nurkowicz and his family and Martin Jabłonski, Frank Rzasa's future brother in law. In 1930 the Rzasa family lived at 8619 Baltimore Avenue.
Death: Franciszek Rzasa died on 19 Aug 1954 of a heart attack. He was residing at 8716 Commercial Avenue at the time of his death. He was buried at Holy Cross Cemetery in Calumet City Illinois.
Other Family Information: Frank Rzasa's parents, Sebastian Rzasa and Rosalia Halak aka Garncarz were married in Palikowka on 17 October 1876. At the time of the wedding Sebastian Rzasa was 26 years and was the son of Sebastian Rzasa and Agnieszka Witek (or Wilk ). His wife Rosalia Barszcz, was the 22 year old widow of Wojciech Barszcz. Rozalia was the daughter of Marcin Garncarz and Jadwiga Naworol.
On Feb 2 1910 Frank Rzasa's sister Helen immigrated from Palikowka on the S.S Vaterland, sailing from Antwerp to N.Y. It was this ship's manifest that confirmed the Rzasa's birthplace. On the ship manifest she said that she was from Palikowka, her father's name was Sebastian Rzasa, and she was going to live with her brother Fanciszek in South Chicago. On 31 July 1911 Helen married Martin Jablonski in St. Michael's church in South Chicago. Incidentally, her name was indexed as Zasa even though she listed her father as Sebastian Rzasa.
In 1930 Martin Jablonski and Helen Rzasa lived at 8524 Colfax Avenue. The census listed several children:
Stanley born 5 September 1912.

Sigmund born 6 March 1915.

Steve born 7 Feb 1917.

Monica born 11 July 1925.