Genealogical Articles by Jay Orbik
A list of published and unpublished articles.
I only show the tile page and one other page as the publishers of these articles sell back issues to raise money for their organizations. If you want a copy of the entire articles, follow these links.
East European Genealogical Society
Chasing Down Footnotes From Polish History Books To Find Records in Polish Archives, East European Genealogical Society, Summer 2008. This article deals with a technique I used in my family research where I found Polish regional history books doing web searches. One I secured these books using inter library loan or on digital repositories, I followed the footnotes to find the location of particular archives, including call numbers and page numbers. Using this technique, I was able to find some outstanding original records in AGAD and other Polish and Lithuanian archives.
Coping With Name Changes in "The Old Country", East European Genealogical Society, Spring 2009. This article addresses specific examples I have encountered while researching my families in different parts of Poland. Included are Piterek/Peterek/Pyterek, Boniarski/Broniarczyk, Nurek/Nurkowicz, Polsfus/Polfus, Polkowski/Litwinski/Litwinko, Szociński

/

Szott

/

Szot,

M

órkowski

/Morkowski/Murkowski, Paulka/Nalepi

ński, and others. It includes topics such as spelling conventions and changes in Poland, names changes tied to property or location changes, and more.
The 1864 Liquidation Tables in the Russian Partition, Rodziny-Polish Genealogical Society of Ameraica, Summer 2009. This article deals with a particular group of records avaialable in the Białystok State Archives that deal with land distribution after the Russian Ukase on land reform in 1864.
This phot

o

of me was published in PGSA

's Rodziny in Fall 2009. It is a photo of me take by Iwona Dakiniewicz on a research trip to Wilno in March of 2009. This was the biggest book I have ever encountered. It was actually hard to manipulate because of its size.

Forest Guards in Podlasia and Mazuria, East European Genealogical Society, Winter, 2010. This article will be published soon and addresses the the occupation of Strzelec Lasów or Forest Sharpshooter, a position that helped preserve Poland

's

forests from poachers and others not authorized to cut down trees without pa

y

ing for them. The article

also

deals with history of Osoczniks, Strażniks, and other positions created to protect wildlife and forests from undue destruction.

It follows the Orbik family from Tajno who worked in the Netta Estate forest of Karpa as well as other Orbiks who worked for the Polish Forestry Deaprtment int

o

the 20th century. Other names of

Strzelec Las

ów in the parish of Bargłów-Kościelny are listed as well as other farmers and farmhands living on the Karpa settlement.

Polish

Notary Records are a Source for Solving Family Mysteries

.

Hopefully this will be published in Rodziny soon. It deals with a particular case of social status changes as a result of property sales prior to the Russian land reform Ukase of 1864. In particular it traces the case of the the property of Wawrzyniec Orbik from Tajno, who was accidentally trampled to death in the 1830s by an imperial messenger. His property transferred to his wife Rozalia, two sons Jozef and Jakob, and a daughter Franciszka. Before her death Rozalia sold her property to a neighbor because she could not keep up with the work. A subsequent court battle ensued between Jozef and his siblings for control of this land. Cover photo is my Great-grandfather Stanislaw Orbik, who immigrated to Chicago in 1892.
Non Farming Occupations in a Farming Community

This article details the variety of non-farming jobs in Barglow-Koscielny parish in the mid 1800s.
In Search of Meaning: Understanding a Rare Polish Name

This article details my twenty year exploration of the origins and meaning of the surname ORBIK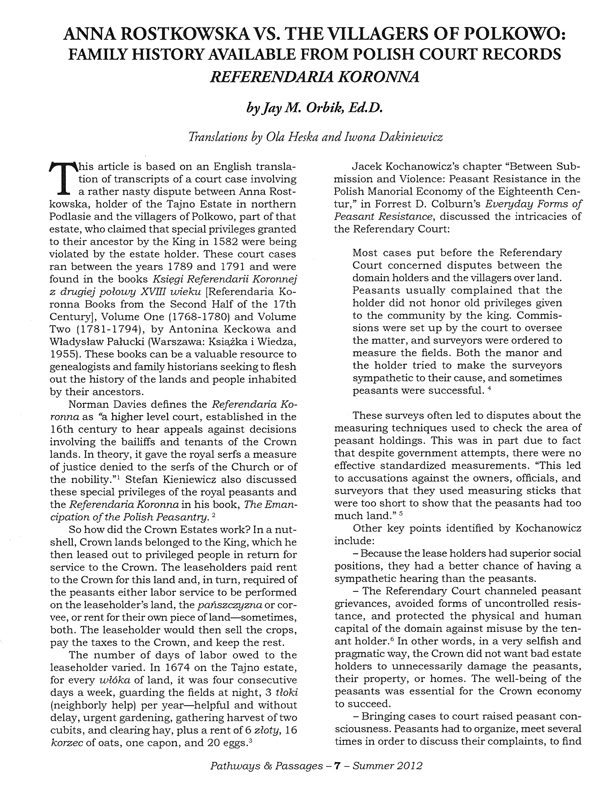 Anna Rostkowska vs. the Villagers of Polkowo: Family History Available from Polish Court Records-Referendaria Koronna. PGSCNE Pathways and Passages, Summer, 2012.
This article is based on an English translation of transcripts of a court case involving a rather nasty dispute between Anna Rostkowska, holder of the Tajno Estate in northern Podlasie and the villagers of Polkowo, part of that estate, who claimed that special privileges granted to their ancestor by the King in 1582 were being violated by the estate holder. These court cases ran between the years 1789 and 1791 and were found in the books Ksiegi Referendarii Koronnej z drugiej polowy XVIII wieku (Referendaria Koronna Books From the second half of the 17th century), volume one (1768-1780) and volume two (1781-1794) published by Antonina Kechowa and Wladyslaw Palucki in 1955. Surnames involved in this case include my ancestors, Polkowski, Litwinski, and Chata. Other names include Odoj-Czerwinskis, Mateusz Konoza and Marianna nee Kawalek, married couple, Fabian Wiercioch and Katarzyna, married couple, Maciej Skiladz and Agnieszka, married couple, Adam and Jozef Wierciochs, Jan Omanowski and Marianna nee Milewska, married couple, Antoni Krukowski, Franciszek Litwinek and others, being the successors of the honest Konozas, the first residents of 5 lans called Polkowo, settlers of these lans, and other residents, citizens and possessors – all plaintiffs.
.
---
Reviews
http://www.arleneeakle.com/wordpress/2010/05/06/chasing-footnotes-a-very-useful-genealogy-research-technique/
---